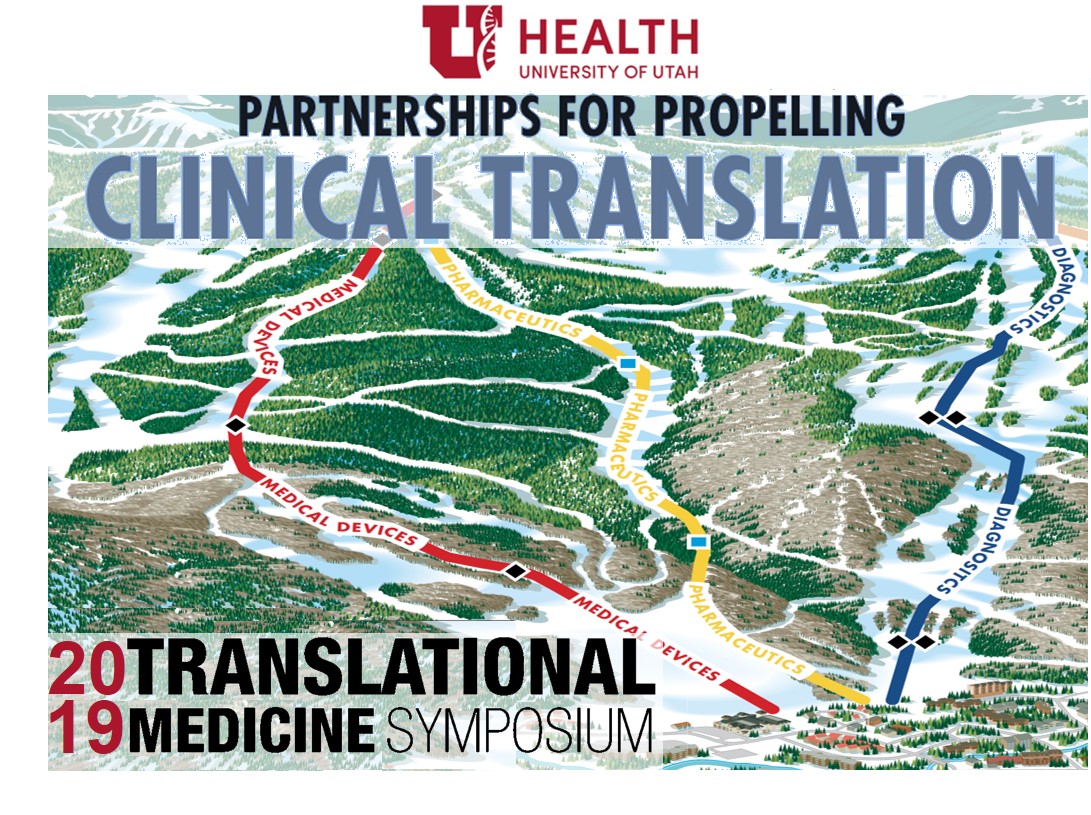 2019 Translational Medicine Syposium
The 2019 Translational Medicine Symposium was held on February 25th at the University of Utah Guest House Ballroom. We had more than 200 registrants from the College of Engineering (25%), School of Medicine (36%), U Health (17%), and Other (22%). Registrants' backgrounds were Basic Research (52%), Clinical (15%), Engineering (22%), and Other (11%). 16% of registrants indicated interest in receiving continuing medical education (CME) credit.
The symposium addressed how clinicians' ideas and research results can have an impact on patient care -- if they are translated into clinical practice. Clinician innovators and entrepreneurs shared their experience and a panel of very experienced experts discussed opportunities, barriers, and steps in creating impactful healthcare innovations. Faculty, student, and postgraduate entrepreneurs became acquainted with the complex and non-linear process of translating medical devices, diagnostics, and therapeutics.
This event was organized by Dr. Leena Bhoite (TVC), Dr. Kai Kuck (Anesthesiology, EFS), and Dr. Tomasz Petelenz (Bioengineering, CMI), under the auspices of the Entrepreneurial Faculty Scholars, led by Dr. Kai Kuck and TVC, led by Dr. Keith Marmer. The symposium was a result of a collaboration of EFS, TVC and the HHMI Med to Grad program (U2M2G), directed by Dr. Anthea Letsou and the Center for Medical Innovation, directed by Dr. John Langell.
Contact information: If you have questions about the event, contact Kai Kuck, Professor, Department of Anesthesiology, University of Utah, kai.kuck@hsc.utah.edu, 801-581-6393
When: Monday, Feb. 25, 2019, 11:30am-5:30pm
Where: University Guest House, Douglas Ballroom, 110 S. Fort Douglas Blvd, Salt Lake City
Event Agenda
11:30am Arrive and Collect Lunch Boxes
12:00pm Welcome (Kai Kuck)
12:05pm Introduction and Opening Remarks (Michael Good, SVP U Health)
12:25pm Keynote Address: Innovation and Translation (Kelvyn Cullimore, BioUtah) Slides
01:00pm Roundtable: Translation and Innovation Resources at the U (Moderator: Keith Marmer)
Roundtable Panelists
John Langell (Vice Dean for Innovation and Executive Director of the School of Medicine Center for Medical Innovation)
Anthea Letsou (Co-Director, CCTS Workforce Development)
Martin McMahon (Senior Director, Preclinical Translation, Huntsman Cancer Institute)
Satoshi Minoshima (Chair, Dept. of Radiology, Chair Health Sciences Research Subcommittee on Entrepreneurship)
Randall Peterson (Dean, College of Pharmacy)
2:00pm BREAK
02:15pm Session I: Diagnostics
Trends in Diagnostics Innovation (Noah Nasser, Chief Commercial Officer, Human Longevity, Inc.) Slides
Translational Case Study: ID by DNA (Mark Yandell) Slides
Q & A with Speakers and Panelists
3:05pm Session II: Therapeutics
Trends in Therapeutics Innovation (Kevin Lynch, Chief Business Officer, Recursion Pharmaceuticals) Slides
Translational Case Study: From Venom to Pain Therapeutics (Michael McIntosh, )
Q & A with Speakers and Panelists
3:55pm BREAK
4:10pm Session III: Medical Devices
Trends in Medical Device Innovation (Myles Greenberg, President & CEO, Alucent Biomedical) Slides
Translational Case Study: Intraoperative Monitoring of Acute Kidney Injury Risk (Kai Kuck) Slides
Q & A with Speakers and Panelists
5:00pm Open Discussion and Closing Remarks (Kai Kuck)
5:20pm End
Accreditation for Continuing Medical Education (ACCME)
Accreditation: The University Of Utah School Of Medicine is accredited by the Accreditation Council for Continuing Medical Education (ACCME) to provide continuing medical education for physicians.
AMA Credit: The University of Utah School of Medicine designates this live activity for a maximum of 5.00 AMA PRA Category 1 Credit(s)™. Physicians should claim only the credit commensurate with the extent of their participation in the activity.
Disclosure: None of the faculty or planners or anyone in control of content for this continuing medical education activity have any relevant financial relationships since the content does not cover any products/services of a commercial interest; therefore, there are no relevant financial relationships to disclose.
Disclosure: With the Exception of Myles Greenberg who will be speaking about 'Trends in Medical Device Innovation'. Myles Greenberg is the President and CEO of Alucent Biomedical.
Nondiscrimination and Disability Accommodation Statement: The University of Utah does not exclude, deny benefits to or otherwise discriminate against any person on the basis of race, color, national origin, sex, disability, age, veteran's status, religion, gender identity/expression, genetic information, or sexual orientation in admission to or participation in its programs and activities. Reasonable accommodations will be provided to qualified individuals with disabilities upon request, with reasonable notice. Requests for accommodations or inquiries or complaints about University nondiscrimination and disability/access policies may be directed to the Director, OEO/AA, Title IX/Section 504/ADA Coordinator, 201 S President's Circle, RM 135, Salt Lake City, UT 84112, 801-581-8365 (Voice/TTY), 801-585-5746 (Fax).