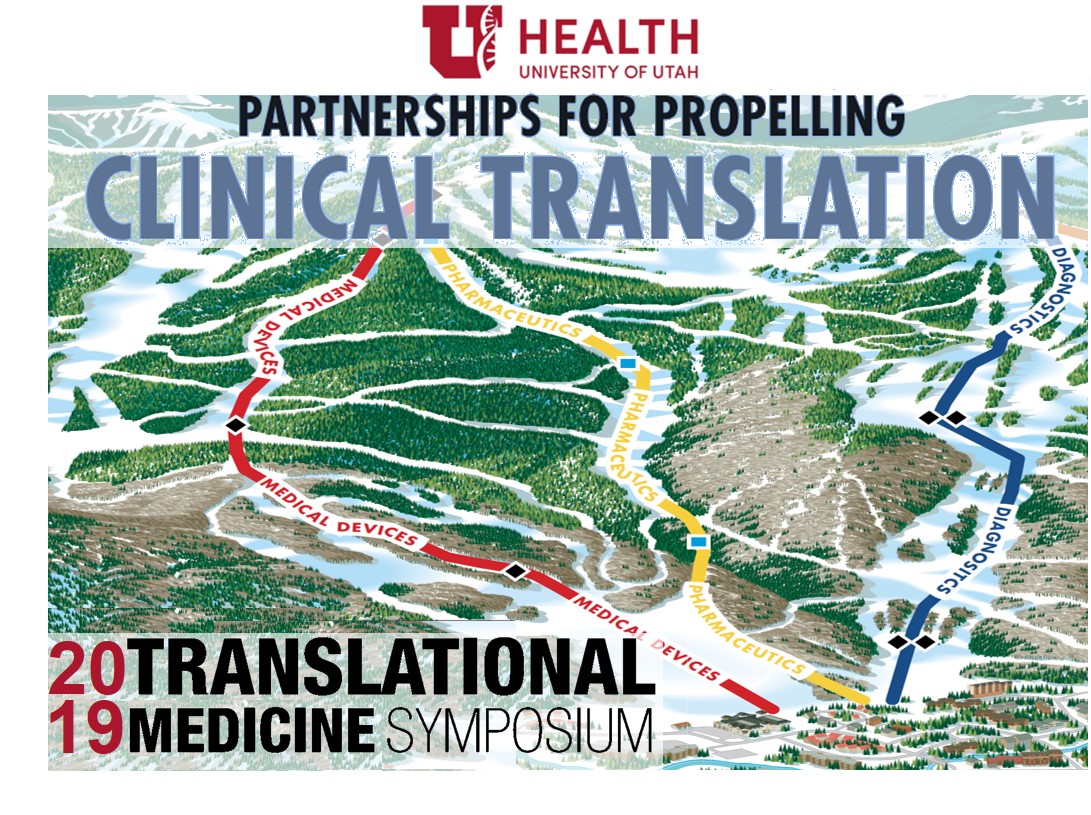 2019 Translational Medicine Syposium
All University of Utah faculty, staff and students are invited to the 2019 Translational Medicine Symposium on Feb. 25 at 11:30-5:30 p.m. Registration is required and free. The symposium will address how clinicians' ideas and research results can have an impact on patient care -- if they are translated into clinical practice. Clinician innovators and entrepreneurs will share their experience and panels of experts will discuss opportunities, barriers, and steps in creating impactful healthcare innovations. This is a great opportunity for faculty, student and postgraduate entrepreneurs to get acquainted with the complex and non-linear process of translating medical devices, diagnostics, and therapeutics.
This event is organized by Dr. Leena Bhoite (TVC), Dr. Kai Kuck (Anesthesiology, EFS), and Dr. Tomasz Petelenz (Bioengineering, CMI), under the auspices of the Entrepreneurial Faculty Scholars, led by Dr. Kai Kuck, co-sponsored by TVC, directed by Dr. Keith Marmer, and in collaboration with the HHMI Med to Grad program (U2M2G), directed by Dr. Anthea Letsou, and the Center for Medical Innovation, directed by Dr. John Langell.
When: Monday, Feb. 25, 2019, 11:30am-5:30pm
Where: University Guest House, Douglas Ballroom, 110 S. Fort Douglas Blvd, Salt Lake City
Directions and map: www.universityguesthouse.com/Location-Transportation
Contact information: If you have questions about the event, contact Kai Kuck, Professor, Department of Anesthesiology, University of Utah, kai.kuck@hsc.utah.edu, 801-581-6393
RSVP
Event Agenda
11:30am Arrive and Collect Lunch Boxes
12:00pm Welcome (Kai Kuck)
12:05pm Introduction and Opening Remarks (Michael Good, SVP U Health)
12:25pm Keynote Address: Innovation and Translation (Kelvyn Cullimore, BioUtah)
01:00pm Roundtable: Translation and Innovation Resources at the U (Moderator: Keith Marmer)
Roundtable Panelists
Anthea Letsou (Co-Director, CCTS Workforce Development)
Martin McMahon (Senior Director, Preclinical Translation, Huntsman Cancer Institute)
Satoshi Minoshima (Chair, Dept. of Radiology, Chair Health Sciences Research Subcommittee on Entrepreneurship)
Randall Peterson (Dean, College of Pharmacy)
2:00pm BREAK
02:15pm Session I: Diagnostics
Trends in Diagnostics Innovation (Noah Nasser, Chief Commercial Officer, Human Longevity, Inc.)
Translational Case Study: ID by DNA (Mark Yandell)
Q & A with Speakers and Panelists
3:05pm Session II: Therapeutics
Trends in Therapeutics Innovation (Kevin Lynch, Chief Business Officer, Recursion Pharmaceuticals)
Translational Case Study: From Venom to Pain Therapeutics (Michael McIntosh, )
Q & A with Speakers and Panelists
3:55pm BREAK
4:10pm Session III: Medical Devices
Trends in Medical Device Innovation (Myles Greenberg, President & CEO, Alucent Biomedical)
Translational Case Study: Revolutionizing Airway Management: Through The Cords, LLC (Sean Runnels)
Q & A with Speakers and Panelists
5:00pm Open Discussion and Closing Remarks (Kai Kuck)
5:20pm End