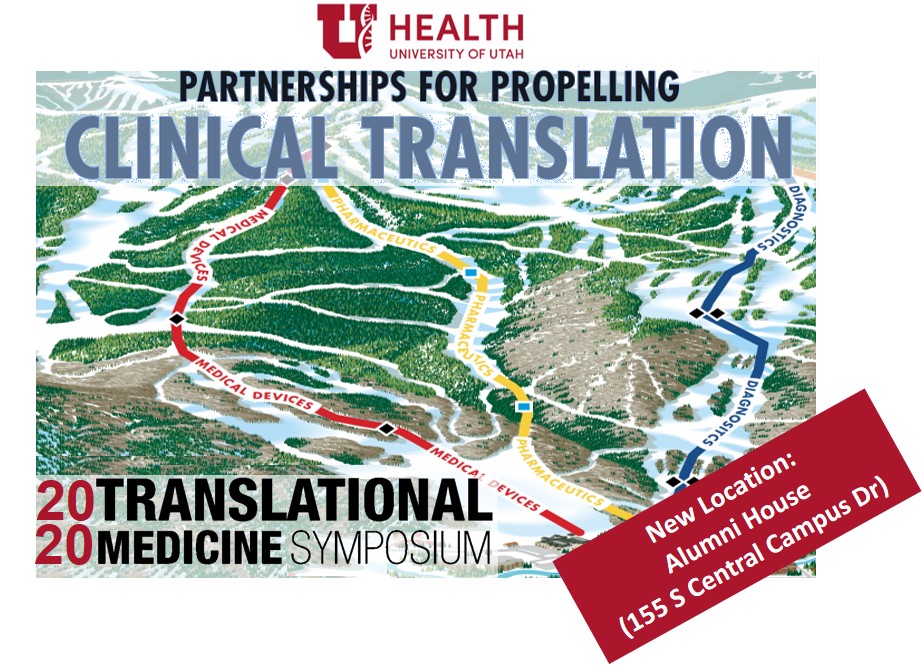 2020 Translational Medicine Symposium
All University of Utah faculty, staff and students are invited to the 2020 Translational Medicine Symposium on Feb. 27 at 11:30-5:00 p.m. The symposium will address how clinicians' ideas and research results can have an impact on patient care -- if they are translated into clinical practice. Clinician innovators and entrepreneurs will share their experience and panels of experts will discuss opportunities, barriers, and steps in creating impactful healthcare innovations. This is a great opportunity for faculty, student and postgraduate entrepreneurs to get acquainted with the complex and non-linear process of translating medical devices, diagnostics, and therapeutics.
This event is organized by a team from TVC and Dr. Kai Kuck (Anesthesiology, EFS), under the auspices of the Entrepreneurial Faculty Scholars (Dr. Kai Kuck), TVC (Dr. Keith Marmer), and BioUtah (Kelvyn Cullimore) in collaboration with the HHMI Med to Grad program (U2M2G),directed by Dr. Anthea Letsou, and the Center for Medical Innovation, directed by Dr. Bryan McRea.
Contact information: If you have questions about the event, contact Kai Kuck, Professor, Department of Anesthesiology, University of Utah, kai.kuck@hsc.utah.edu, 801-581-6393
When: Thursday, Feb. 27, 2020, 11:30am-5:30pm
Where: University Alumni House, University of Utah, 155 S Central Campus Drive, Salt Lake City
RSVP
Event Agenda
11:30am Lunch and Networking Opportunity
12:30pm Welcome (Kai Kuck)
12:40pm Opening Remarks (Andy Weyrich, University of Utah, VP of Research)
01:00pm Keynote Address: Vicki Farrar, LightLine Medical
01:30pm Roundtable: Translation and Innovation Resources at the U (Moderator: Satoshi Minoshima, Chair, Dept. of Radiology, Chair Health Sciences Research Subcommittee on Entrepreneurship)
Roundtable Panelists
Mary Albertson (TVC, Director of Commercialization)
Willard H. Dere (Associate VP for Research, Health Sciences; Vice Dean for Research, School of Medicine)
Wade Fallin (Orthopaedic Innovation Center, University Health)
Bryan McRae (CMI)
Randall Peterson (Dean, College of Pharmacy)
Catherine Soehner (Associate Dean and Director, Eccles Health Sciences Library)
2:15pm BREAK
02:30pm Session I: Therapeutics (Moderator: Myles Greenberg, CEO, Alucent)
Translational Case Study: Mei Koh, Kuda Therapeutics
Q & A with Speakers and Panelists

Sharath Hegde (Chief Scientific Officer, Recursion)
Ricardo Moran (Principal and Attorney, Schwegman Lundberg & Woessner)
Shobha Parthasarathi (VP External Innovation and New Ventures, Xontogeny)
Lili Portilla (Director of Strategic Alliances, NIH National Center for Advancing Translational Sciences)
3:15pm Session II: Diagnostics (Moderator: Scott Marty, Partner, Ballard Spahr)
Translational Case Study: Jerry Gleich, Nexeos Diagnostics
Q & A with Speakers and Panelists

Andy Olson (CEO, Inherent Biosciences)
John Wirthlin (CEO, LUMEA)
Noriko Kusukawa (VP and Director of Innovation and Strategic Investment, ARUP)
Rai Chowdhary, (Chair Regulatory Compliance and Quality Committee, BioUtah)
4:00pm BREAK
4:15pm Session III: Medical Devices (Moderator: John Zurawski, Partner, Ballard Spahr)
Translational Case Study: Sean Runnels, Through the Cords
Q & A with Speakers and Panelists

Marcia Griffiths (CEO, Rocky Mountain Research)
Shawn Fojtik (CEO, Control Medical Technology)
Branden Rosenhan (Managing Director, MedMountain Ventures)
Craig Watson (VP OEM and Scientific Products, Medline)
5:00pm - 6:30pm Networking Happy Hour (* 21 years and older only)