DIIA winners 2017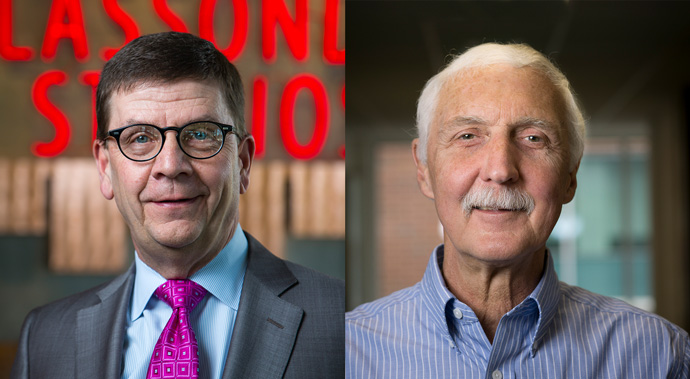 2017 winners Troy D'Ambrosio (left) and John Kircher/p>
Videos
Troy D'Ambrosio
John Kircher
Press Release
U Honors Faculty for Innovation and Impact
Winners of the seventh annual 2017 Distinguished Innovation and Impact Award to be recognized at commencement ceremony
April 26, 2017 – The University of Utah announced the winners of the seventh annual Distinguished Innovation and Impact Award today. The award recognizes faculty who create products and initiatives with potential to change the world and improve lives.
This year's winners are: Troy D'Ambrosio, executive director of the Lassonde Entrepreneur Institute, assistant dean at the David Eccles School of Business and a presidential chair in entrepreneurship; and John Kircher, a professor of educational psychology, an inventor and cofounder of Conversus, a company specializing in lie detection using a unique technology developed by Kircher and his colleagues. They will be honored at the U's commencement ceremony on Thursday, May 4.
The Distinguished Innovation and Impact Award is one of the newest faculty awards at the U. The university created it to recognize faculty entrepreneurial activities that have resulted in innovations with measurable and significant societal impact. The award is managed by the University of Utah's Academic Affairs office with support from the Entrepreneurial Faculty Scholars program, a network of faculty dedicated to maintaining a thriving culture of impact at the university.
"The Distinguished Innovation and Impact Award honors faculty members at the University of Utah whose creativity and dedication have resulted in their innovations having measurable positive effects on people's lives," said Glenn Prestwich, a presidential professor of medicinal chemistry and founding director of the Entrepreneurial Faculty Scholars. "We created this award in 2011 to celebrate faculty from all colleges on campus who are actively implementing their inventions to propel change."
"This year we celebrate Troy D'Ambrosio and John Kircher, two inspirational innovators," Prestwich said. "We recognize Troy as the vital force behind the creation and success of the student-focused Lassonde Entrepreneur Institute and now the unique and iconic Lassonde Studios. We honor John for translating his research on the psychophysiological basis of deception to an efficient and more accurate ocular-motor test that is now used in security, justice and business contexts." 
Read more about the 2017 award winners below. Find more information about the University of Utah's commencement at commencement.utah.edu. And learn about the Entrepreneurial Faculty Scholars at efs.utah.edu.
Troy D'Ambrosio
Troy D'Ambrosio is the executive director of the Lassonde Entrepreneur Institute, assistant dean at the David Eccles School of Business and holds a presidential chair in entrepreneurship at the University of Utah. In his time at the University of Utah, D'Ambrosio developed and now manages the Lassonde Institute, an interdisciplinary division of the David Eccles School of Business that assists students and faculty from idea to company launch through many programs, competitions and curriculum. The Lassonde Institute has been consistently ranked as one of the best 25 programs for entrepreneurship in the nation by the Princeton Review, and it has helped the University of Utah become a leader in technology commercialization.
"We have achieved a lot in just 15 years since we formed what is now the Lassonde Entrepreneur Institute through the vision and support of our founder Pierre Lassonde," D'Ambrosio said. "I am honored to receive this award and recognition for everything we have been able to achieve. It has also been an honor to work with so many students to develop their ideas and help them learn by doing. We look forward to inspiring many more students at Lassonde Studios. We just opened this world-class facility in August 2016, and we expect many great years ahead."
D'Ambrosio is cofounder, officer and director of multiple startup companies that have attracted over $500 million in capital. Those companies include Transworld Telecommunications, which was sold to Sprint in 1998; Convergence Communications, which was sold to Lockheed Martin in 2005; and EPM Mining Ventures, which is listed on the Toronto Venture Exchange. He has served as the vice president of investor relations and corporate communication for American Stores Company, an NYSE listed company, the director of mutual fund operations for Wasatch Advisors and deputy chief of staff to the mayor of Salt Lake City. He graduated from the University of Utah in 1982 and was named the Ernst & Young Entrepreneur of the Year in 2000, a v100 Technology Leader in 2008, Best in State Educational Administrator in 2009 and received the 2014 Governor's Medal for Excellence in Science and Technology.
D'Ambrosio has brought all of this experience to the University of Utah to the benefit of all students and the university's entrepreneurial ecosystem. Every year, the Lassonde Institute engages thousands of students, teaching them how to be entrepreneurs and leaders through many programs. The latest development in the Lassonde Institute is the completion of the Lassonde Studios, a $45 million facility for aspiring entrepreneurs to "live, create, launch." This building has already received worldwide attention and is expected to further the university's reputation for entrepreneurship education.
John Kircher
John Kircher is a professor of educational psychology at the University of Utah. He received his Ph.D. in Psychology from the University of Utah in 1983. Kircher is an internationally recognized expert on the subject of deception detection in government and industry. He has authored more than 90 scientific publications and technical reports in the field of psychophysiological detection of deception and has served as a consultant on deception detection to the U.S. Department of Defense, U.S. Secret Service, U.S. Department of homeland Security, National Science Foundation, National Research Council, Royal Canadian Mounted Police, and numerous state and local police departments.
He and his colleague David Raskin laid the scientific foundation for, and in 1991 developed, the software and hardware for the first computerized field polygraph system, which is still in use worldwide today. Since 2002, Kircher has been leading a group of researchers at the University of Utah in the development of a new technology to detect deception that takes into account the psychophysiological, cognitive and strategic components of deception. His research has resulted in the creation of a completely new and innovative technique in the detection of deception. In laboratory and field studies, it consistently classifies 80 to 85 percent of guilty and innocent subjects correctly. This accuracy is as high or higher than that achieved by polygraph techniques. In addition, the technique, called the ocular-motor deception test, is less invasive, takes less time to administer than a polygraph, it's computerized administration eliminates the need for highly trained experts to administer the test and analyze the results, and it is less costly than the polygraph.
Kircher has helped commercialize the technology through Conversus, a company that has provided the technology to nearly 150 businesses and government organizations throughout North, Central and South America as a tool for pre-employment and periodic testing of individuals who are in positions of public trust.
"I have had the privilege to work with many incredible people to develop a groundbreaking technology that is helping redefine lie detection," Kircher said. "We have grown this technology rapidly through Central and South American, and we look forward to continued growth and adoption in North America and across the world. I am deeply honored to have received this award for our work.  I could not have done it without the help of outstanding colleagues and students and funding from the Office of the Vice President for Research. The University of Utah is a great place to conduct research because it supports faculty working in all areas and disciplines."
Resources
PHOTOS & VIDEO: Download photos to use with this news here (ZIP). Video files are available upon request.
MEDIA CONTACT: Thad Kelling, marketing directory, Lassonde Entrepreneur Institute, University of Utah, 801-587-8811, thad.kelling@utah.edu.